Dr. Brent Husband
I was born in Portland and grew up in Hillsdale and Sherwood. I attended school at Eastern Oregon State College and following graduation, immediately entered the College of Veterinary Medicine at OSU, where I met my wife, Debbie. I graduated from vet school in 1992. After spending time out of state, Dr. Debbie and I were happy to return to Oregon. We purchased Animal Care Clinic on Halloween of 1997.
For the majority of my career I've worked in a small animal practice. I enjoy working with both cats and dogs. The variety of animals and breeds that we see guarantees that there is always something new to learn. I believe strongly in continuing education and pursue this goal for both myself and my staff.
I enjoy all aspects of veterinary medicine but I have a special interest in surgery. All types of soft tissue surgery are interesting to me, as is the challenge of orthopedics. I'm excited that we're developing laparoscopic surgical technique at the clinic. This allows for far less painful procedures and improved recovery times. Limiting and relieving pain is very important to everyone here at the clinic.
Dr. Debbie and I have three children, Natalie, Heidi and Andrew. Currently we have three unique cats, a budgie and a leopard gecko. In my free time I love to travel and in the winter I am a ski instructor at Mt. Hood Meadows. I love Oregon and I am very glad to be able to live and work in the place that I call home.
Dr. Debbie Husband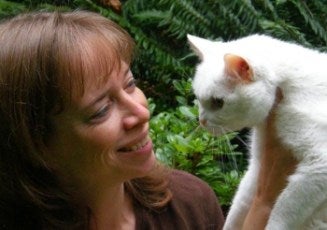 I grew up in Beaverton, Oregon and graduated from Oregon State College of Veterinary Medicine in 1993. Dr. Brent and I were married after we both completed school. We moved to Minneapolis for awhile but we were thrilled when we were able to return to Oregon. We love living in this beautiful state, so close to both of our families. We share our life with three kids, three cats, one bird and one gecko.
In 1997 we purchased Animal Care Clinic and since then we have worked hard to create a clinic where we can practice optimal care for animals. I believe that with great basic care we can increase the quality of life for our family pets. This often means they have longer to spend with us!
As cats and dogs reach their geriatric years, there are several things we can do to help them feel their best. Aging pets often must cope with the pain of arthritis. My passion for easing that pain has been the motivation behind becoming certified in animal rehabilitation. Through rehabilitation, I can help ease the pain that animals are feeling, whether it's caused by arthritis, an injury, surgery, or a neurological disease. I have been certified since 2012, and applying what I've learned to help our patients.
I feel fortunate to work in a community that makes pet healthcare a priority. Our clients and our patients make every day a learning experience – and I find that very rewarding.
Since then I worked in an all cat clinic for a few years and a corporate small animal practice for about a year in Las Vegas. I moved to Oregon in 2020 to be closer to my family and friends in the PNW. I plan to continue exploring the area and enjoying all the PNW has to offer by attending Seahawks' and Trailblazer games, hiking in the wilderness, and tasting the delicious local food and beverages.
My interests include ultrasonography (abdominal and heart), soft-tissue surgery, feline internal medicine, and nutritional support of chronic disease processes. I enjoy working with owners to find the best treatment plans that work for the pet, the family and all involved in order to get your furry family member happy and healthy for as long as possible.