Laparoscopic Surgery
Up to 65% less post-operative pain
Less surgical stress
Quicker recovery time
Less risk of post-operative wound infection and complication
A gentle alternative to conventional dog spay surgery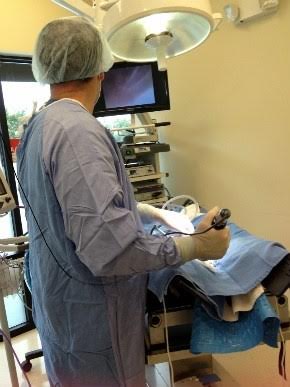 Laparoscopic surgery is a minimally invasive technique used to view inside the abdomen. A laparoscope (tiny camera) is inserted through a small incision site and used to magnify the internal view of the abdomen onto a TV monitor. This allows the veterinarian to do a more thorough abdominal examination while creating a much smaller incision site. Traditional abdominal exploratory surgery (Laparotomy) requires extensive incisions. With a laparoscope, most incisions are less than an inch in length.
With a laparoscope, surgery can be performed by using very thin, specially designed instruments through the same tiny incisions. This minimizes tissue trauma, decreases pain, and speeds patient recovery. Laparoscopic surgery is used for many different surgical procedures including dog spay, cat spay, biopsy, gallbladder removal, and abdominal exploratory surgery. In veterinary medicine, laparoscopic surgery is most commonly used for dog spays.
In a traditional spay (ovariohysterectomy) the ovaries and uterus are removed, creating an incision of about 2-4 inches. The ovarian ligament is torn from the uterine wall, which can cause trauma, bleeding, and post-operative pain. With the use of a laparoscope, a veterinarian is able to perform an ovariectomy, removing only the ovaries and creating two small incisions typically about ½" in size. Because magnified views of the organs allow for greater precision, the ovarian ligament is carefully cut and cauterized instead of torn. Research has shown that female spay patients experience far less surgical stress, up to 65% less post-operative pain, less risk of post-operative infection and wound complications, and a quicker recovery time.
Our goal at Animal Care Clinic is to minimize your pet's pain. With the assistance of laparoscopic surgery, we hope to get your pets back to playing ball or snoozing in the sunshine as soon as possible.